Wire Guided Stone Extraction Balloon Catheter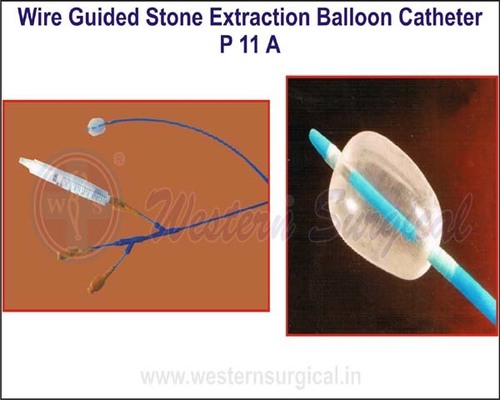 Wire Guided Stone Extraction Balloon Catheter
Product Description
Wire Guided Stone Extraction Balloon Catheter :Used for Endoscopic Extraction of Biliary Stones.
Technical Information -
Double / Triple Lumen Feature Provides Wire Guide Access to Facilitate Stone Extraction, from Desired Location During Procedure.
Catheter Diameter - 7 Fr.
Compatible with 0.035 inch wire guide.
Availability - Individually Packed. For Single Use only.
Working Length - 200 cm.
Balloon Diameter - 16 mm.
Balloon Length - 16 mm.
| | | | | | | |
| --- | --- | --- | --- | --- | --- | --- |
| Catheter Diameter MM / FR | Functional Catheter Length | Diameter of Inflated Ballon | Max Gas to Inflate | Max Gas to Inflate | Recommended Guiding Wire (inch) | Lumen |
| 2.3/7 | 200 cm | 16 mm | 4.5 cm2 | 3.0 ml | 0.035" | Double |
| 2.3/7 | 200 cm | 16 mm | 4.5 cm2 | 3.0 ml | 0.035" | Triple |