Spot Light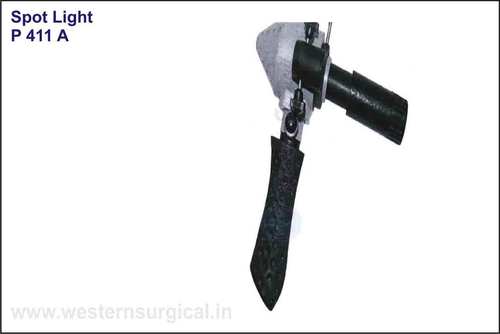 Spot Light
Product Description
Spot Light
Very attractive state of the art examination light with optimal halogen illumination 12v , 50w suitable for operations in offices of gynaecologists and dentists and for diagnosis in other medical fields. The focusing lens at the instrument head allow to adjust the size of the illuminated examination filed. The light intensity can be adjusted by means of the meostat. The highly flexible special arm can be moved in all directions and remains in the requested position. The examination light is available as desk model, wall model or floor model with mobile steel stand (iron cast base), black powder coated. The practical universal clamp allow to attach the desk model also to beds or rails in hospital.
FEATURES
Easy to position, small, non-obtrusive heads does not block view of task areas.

Light weight focusing sleeve with optics is sealed for less dust.

Provides homogenous spot and variable spot size.

Easy to maintain halogen lamp provides brighter, whiter light

Multiple mounting options for greater flexibillity.