KORSOSTER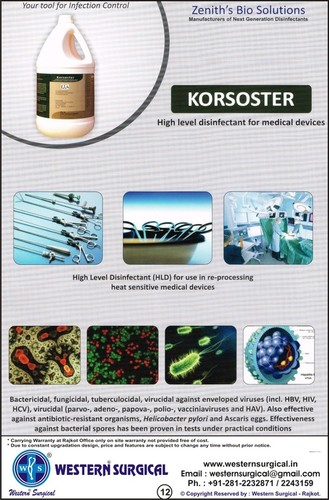 KORSOSTER
Product Description
Bactericidal, fungicidal, tuberculocidal, virucidal against enveloped viruses (incl. HBV, HIV, HCV), virucidal (parvo-, adeno-, papova-, polio-, vacciniaviruses and HAV). Also effective against antibiotic-resistant organisms, Helicobacter pylori and Ascaris eggs. Effectiveness against bacterial spores has been proven in tests under practical conditions.
High degree of material compatibility for machine and endoscope.
Compatible with different water qualities.* Virucidal* Korsoster is a residue-free, exceptionally material compatible disinfectant for chemo-thermal reprocessing of endoscopes. The product achieves a high microorganism reduction and offers staff and patients an effective protection against infection.