Fogging Machine - ULV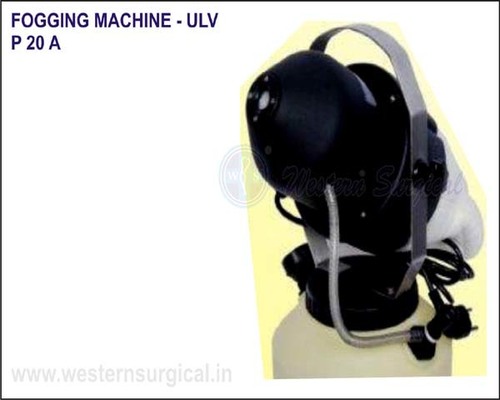 Fogging Machine - ULV
Product Description
Fogging Machine - ULV
Ultra Fine Aerosole Generator for Fumigation Air Environment Sterility:
Fogger generates high destiny fog droplets size in the range of 5-15 microns, also provides maximum trust. deeper penetration in every corner & crevices. Wide spread of aerosols ensuring effective & uniform treatment of ULV chemical being fogged , be it aerial fumigation / fogging or surface treatment.
Engineered to meet most demanding & critical task of aerial fumigation / disinfection in sterile areas of hospitals.Pharmaceuticals industry . Biotech Industries wide range of applications in food & beverages, Pouttry & Hatcheries. Light weight portable & extremely user-friendly, SKAN Fog ULV aerosol generator are highly versatile & ideal equipment to dispense wide range of disinfectant , biocides , fungicides , deodorants & pesticides.
Provides excellent control on droplet on size & is capable of generating ultra fine droplets (5-15 mocrons) for ULV fogging to larger dropiets (neavy fog) as application demands.
Performance & Technical Features:-
5-15 Sub Micron size droplets reaches every corner & crevices.

Equipped Nozzle assembly , SKAN Fog ULV produces greater aerosol volume & fine diffusion of chemical being fogged into obstructed surface ensuring uniform treatment of entire space.

The large number of very small droplets create high density Fog.

Least possible residues on floor & surface.

Fine droplet size of the fog greatly enhances the action of the chemical being dispensed using lesser chemical & water (diluent)

Saves substantial amount of chemical cost with better treatment results.

Easy to clean , detachable & non-corrosive , chemical resistance , High grade chemical tank.

Rugged design & corrosion reistant material of construction compatible for use in hospitals . sterile areas of pharmaceuticals & food industry.

Special designed intake air filter prevents entry of dust ,dirt & chemical and helps to extend life of motor parts.
Application Areas:-eeHospitals, Nursing Homes & Clinics -
Fumigation / Air environment sterility in operation Theaters, insentive Care Units, ICCUs, Neonatal ICUs, AKD units, paients Rooms , & General ward , Post Operative wards , Air sterility in Microbiology Lab , Pathology labs, Blood Banks etc.
Pharmaceuticals & Biotech Industries -
Aerial fumigation / Air environment sterility in sterile areas of injectibles , Vacciness , Tablets , Parentrals, IV fluids , Medical Devices , Bulk Drug manufacturing areas . QC & QA areas , microbiology lab . R & D center , Clinical drug trial center . Tissue Culture Laboratories.