Esophageal Dilators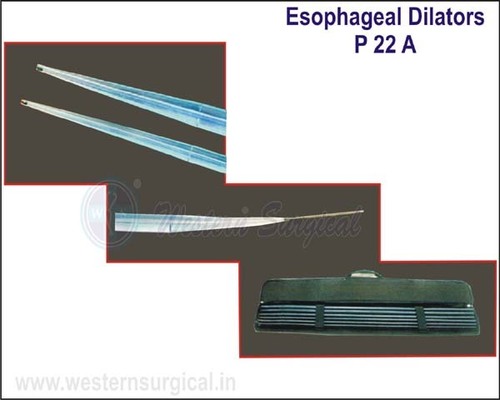 Esophageal Dilators
Product Description
Esophageal Dilators :
Used to Dilate Esophageal Strictures Over Previously Placed wire Guide.
Non Sterile and Reusable.
Available Sizes - 5 mm to 16 mm Outer Dia.
Other Sizes can be Produced On Specific Request.
Soft, Flexible and Radiopaque Tip & Radiopaque Junction.
Gradual Tapering.
Low Friction Lumen Surface.
Compatible with 0.035 inch wire Guide.
Dilator Size - Diameter - 5 mm to 16 mm. Length Two Sizes Available - 100 cm, 70 cm.
Availability -
1) Set of 6 Pcs. Even Dia. / Odd Dia.
2) Set of 12 Pcs.
3) Individual Pcs. of Desired Dia. Set includes 1 x Shaili Flexible Spring Tip Wire 250 cm Long. Carring Case is Available with order of set only.
| | | | | |
| --- | --- | --- | --- | --- |
| Outer Diameter | Length | Reference | Outer Diameter | Length |
| 5 mm. | 100 cm. | WS-SED-570 | 5 mm. | 70 cm. |
| 6 mm. | 100 cm. | WS-SED-670 | 6 mm. | 70 cm. |
| 7 mm. | 100 cm. | WS-SED-770 | 7 mm. | 70 cm. |
| 8 mm. | 100 cm. | WS-SED-870 | 8 mm. | 70 cm. |
| 9 mm. | 100 cm. | WS-SED-970 | 9 mm. | 70 cm. |
| 10 mm. | 100 cm. | WS-SED-1070 | 10 mm. | 70 cm. |
| 11 mm. | 100 cm. | WS-SED-1170 | 11 mm. | 70 cm. |
| 12 mm. | 100 cm. | WS-SED-1270 | 12 mm. | 70 cm. |
| 13 mm. | 100 cm. | WS-SED-1370 | 13 mm. | 70 cm. |
| 14 mm. | 100 cm. | WS-SED-1470 | 14 mm. | 70 cm. |
| 15 mm. | 100 cm. | WS-SED-1570 | 15 mm. | 70 cm. |
| 16 mm. | 100 cm. | WS-SED-1670 | 16 mm. | 70 cm |