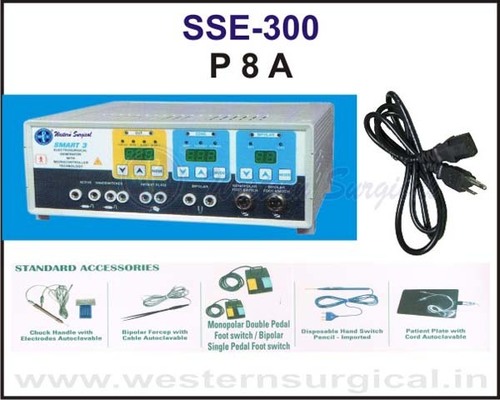 SSE-300
Product Description
DIGITAL ELECTRO SURGICAL GENERATORS:SSE-300
EASE new microprocessor based electro surgical units are available in market with outstanding performance of monopolar (cut & coag) & Bipolar.
In Many types of surgery were high precision & reliability are essentail , microprocessor control provides the user safety & performance during surgery.
These units has pure cut, are exceptionally smooth & start promptly even in irrigated procedures.
The blend gives a good hemostasis effect than cutting & spray coagulation which rivals the best spark gap generators & with minimum cutting effect. The isolated bipolar output, which has a non sparking characteristic, is ideal for microsurgery, neruosergery,Laparoscopy & other application.
Display : 7segment Led
Dimension(Wxhxd) : 290 Mm X 105 Mm X 260 Mm
Weight : 4kg
Keyboard : Feather touch
Input Supply Voltage : 230vac + 15%@50/60hz
MONOPOALR MODE:
CUT
| | | | |
| --- | --- | --- | --- |
| MODE | POWER | LOAD | OPERATING FREQ. |
| PURE | 300W | 500 | 480Khz |
| BLEND1 | 250W | 500 | 480Khz |
| BLEND2 | 200W | 500 | 480Khz |
| BLEND3 | 150W | 500 | 480Khz |
COAG
| | | | |
| --- | --- | --- | --- |
| MODE | POWER | LOAD | OPERATING FREQ. |
| SPRAY | 120W | 500 | 480Khz |
| FULGURATE | 150W | 500 | 480Khz |
| DESSICATE | 150W | 500 | 480Khz |
BIPOLAR MODE
| | | | |
| --- | --- | --- | --- |
| MODE | POWER | LOAD | OPERATING FREQ. |
| SOFT | 80W | 300 | 480Khz |
| FORCE | 80W | 300 | 480Khz |