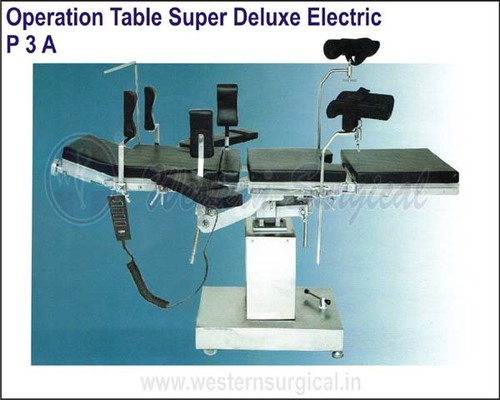 Operation Table super Deluxe Electric
Product Description
Operation Table super Deluxe Electric
Salient Features
Five section acrylic table top gives eases for various surgical positions.
Back section, Trendlenburg/RTB, Flex/Reflex, kidney section operated through drive handle
Hi-Low positions is achieved by concealed hydraulic pump.
Bases & column covered with 304G stainless steel top to ensure high durability & hygiene for the operation room.
Leg section & head section interchangeable.
STANDARD ACCESSORIES
Five section Mattress : 1 set
Anesthetist screen : 1 pcs
Padded shoulder support : 2 pcs
Padded Lateral support : 2 Pcs
Padded Lithotomy crutches : 2 pcs
Padded Arm Rest : 2 pcs
Drive Handle : 1 pcs
ELECTRICAL MOVEMENT
Trendlenburg/Reverse Trendlenburg
Hi/Low
Lateral Tilt
Longitudinal shift : USI2005S only
MECHANICAL MOVEMENT
Kidney Positions
Head Rest/Leg Rest
| | |
| --- | --- |
| Specification/Model No | 2001E |
| overall Length of the table | 1950mm |
| overall width of the table | 500mm |
| Minimum height of the table | 780mm |
| Maximum height of the table | 1030mm |
| Trendlengburg/Reverse | 30 degree |
| Flex/Reflex | 80/220 |
| Side Tilt | 22 |
| Kidney section | 125mm manually |
| Leg plate | 90 down |
| Hi-Low lift | Electric |