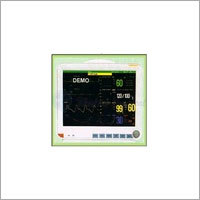 Multi-Para Patient Monitor 15"
Product Description
MULTI-PARA PATIENT MONITOR 15''
5 standard parameters : ECG, RESP, NIBP, SPO2, 1-TEMP. Real time S-T segment analysis, pace-maker detection and ARR analysis. Multi-display selectable including standard, largefort, trend coexis, OxyCRG dynamic on-line help and patient info input management multi-lead ECG waveforms display in phase And capture dynamic waveforms. large volume of tabular and graphic trends information storage easy to recall efficient resistance to interference of defibrillator and HF knife. Up to 4 hours working capacity of built-in rechargeable battery.
SPECIFICATIONS

ECG : Lead mode : 5-lead (R,L,F,N,C)
Waveform : 3 and 7 channel selectable
Heart rate range : Adult : 15~300 bpm
Neonate/pediatric : 15~350bpm
Resolution : 1bpm filter : surgery mode : 1~20Hz
Alarm range : 15~1350bpm S-T segment detecton

measurement range : 2.0 mv~+2.0mv
Alarm range : -2.0mv ~+2.0mv
Accuracy : -0.8mv ~+0.8Mv Error : +0.02Mv
Arrhythmia analysis : YES
SPO2 :
Measurement range : 0-100%
Resolution : 1%
Accuracy : +2%(70-100%); 0-69% unspecified
Alarm range : 0~100%
pulse Rate : range : 20~300bpm

Resolution : 1bpm
Error : +1bpm or +2% whichever is greater
NIBP :
Methd : Digital automatic osillometric
Operation mode : Manual/Automatic/continuous
Over~pressure protection : Double safety protection
Resolution : 1 mmHg
Alarm : Systolic.Diasotlic,Mean
RESPIRATION
Method : Thoracic impedance
Measurement range : Adult : 7~120rpm
Nonate/pediatric : 7~150rpm
Apnea alarm : YES, 10~40'S
Resolution : 1rpm
Accuracy : +2rpm
TEMPERATURE :
compatible probe : YES or CYF
Measurement range : 5~50 C
Accuracy : +0.1 C
Refreshing time : about 1
Average measuring time : <10s