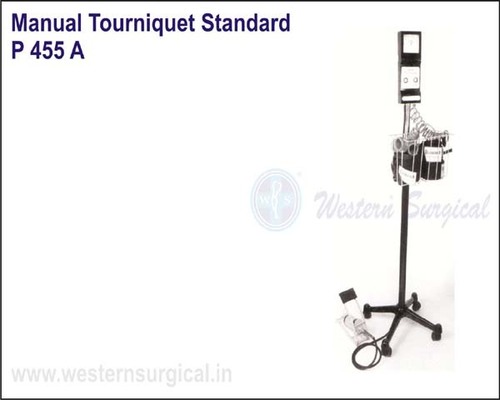 Manual Tourniquet Standard
Product Description
Manual Tourniquet Standard :
Manual Tourniquet Standard on Hight Adjustable Stand With Cuff Basket [Model : TRDG 602]
Tourniquet Unit -
Simple, Handy and Easy to Opearte and Tottaly Manual System.
No Need of Power.
Inflation Manually by Rubber Bulb or Foot Pump.
Cuff Pressure Indication by Dial Gauge from 0-500 in mm H8 Units.
NRV Protection at Inflation Port of Prevent Accidental Pressure Release.
Easy to Operate Push Button Control for
a) Fine Cuff Pressure Release and
b) Fast and Complete Pressure Release.
Special Tourniquet Cuffs -
Designed with Soft Atmoring to Protect from Accidental Piercing by Sharp Objects.
Provided with Coiled, Puncture Resistant PU Tubing.
Reliable, Quick and Easy Connect/Disconnect type of Coupling Connector.
Extra Long Velcro Fastening with side ties to Facilitate Proper Wrapping of Cuff.
Height Adjustable Stand with Cuff Basket -
Sturdy Graded Cast Iron Base, Made in Balance Design.
Smooth, Easy Revolving Sleek Castor Wheels for Easy Transport.
Fully Plated (internally & externally) hence Dustproof Design of Stand with High Aesthetics Glossy Paint of Best Quality.
High Polished Chromium Plating on Solid Pillar for Long Life.
Effortless Lifting of the main Unit for easy height Adjustment due to the Provision of Lifter Lubricated Spring.
Elegant, Light Weight, roomy Cuff Storage Basket.