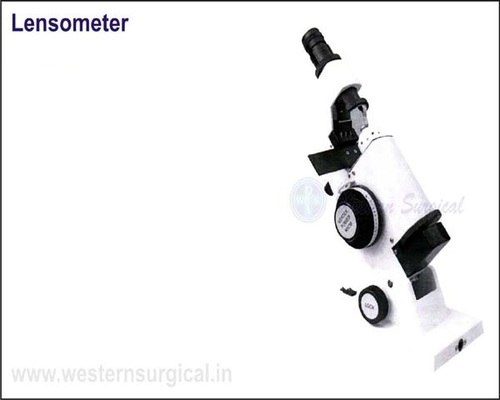 Lensometer
Product Description
Lensometer :-
Manual Lensometer combines the traditional features you would expect, with innovative advantage, such as LED illumination and cord-free battery power.
The cool-running, energy-efficient LED Light source provides a clear green illumination target, and virtually maintenance - free operation.
Battery operated and completely cordless, the KL- 18.010 Manual Lensometer gives you the freedom of mobility without any clutter. The KL-18.010 low - power consumption and auto sleep feature ensure long battery life.
* Features :-
- Kashmir Surgical Lensometer performance of targets to meet any need.
- LED light source ends burn out.
- Tilting base permits positioning for comfort and convenience.
- Choice of power sources for maximum flexibility : AC adapter with 2 connect
- External scale models features large-diameter easy-to-read diopter scale.
- Batteries for cordless operation and less power consumption.
- Compact, Lightweight and handy instrument.
- Simple and easy, scale reading system.
* Specification :-
- Type External Reading
- Target Corona Cross 360 Degree
- Vertex Power Range 0 to + 24 diopters
- Cylindrical Axis 0 degree to 180 degree
- Prismatic Power 0 to 5
- Acceptable Lens Diameter 20 to 80
- Tillable Angle Tillable Angle
- Eyepiece Focusing Range 0 to 5 diopter
- Lens Diameter Up to 90 mm
- Accuracy Accurate centering and making of lenses
- Power Requirement AC 220-240 Volts, Optional 110v-130v AC
- Weight 5.5 kg
- Standard Accessories Dust Cover and Two Spare Lamp
--> Lensometer External Reading KL - 18.010
--> Lensometer Internal Reading KL - 18.020