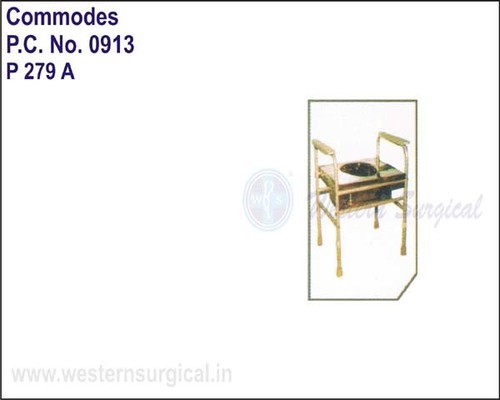 Invalid Commode With Cover
Product Description
Invalid Commode With Cover
A major problem among senior citizens is limited mobility. This severely impairs their quality of life, making them dependent on family members and/or caretakers even for the simplest of tasks. The task of squatting for using the toilet is tiresome and sometimes impossible for people who have suffered from some leg injuries or have knee related issues such as knee osteoarthritis. They are unable to bend their joints at these angles and maintain this posture for a considerable duration (for the duration of the defecation process) as they face a lot of problem while rising up and assuming the standing position.

The Vissco Invalid Commode With Cover- Universal has therefore been designed to make their lives easier. This product is designed as a chair with a cover. It can be folded when not in use or when it needs to be transported somewhere. The adjustable height allows the user to choose the appropriate height. The chair has a molded bucket seat to ensure the user's comfort. There are two handles on both sides of the chair to make it easier to hold on to them while sitting or standing up. The footrest is made of anti-slip material, ensuring a firm grip. The bucket can be removed easily for washing after use. Its heavy-duty construction ensures a long life. Additionally, the anti-slip feet prevent slipping and injuries.
Benifite of use:-
Convenient for people with limited mobility
Easy to clean and maintain
Can be moved as per the user's requirement
Ready-to-use western style commode facility
Soft material on handles and seat top relieves the pressure.
Useful For:-
People unable to walk to the washroom every time they need to use the toilet ( the elderly, people recovering from surgery or injury, those with limited mobility)
People with chronic osteoarthritis of the knee who have trouble in squatting for long periods
People who are unable to use the Indian toilet and do not have a Western toilet at home
Product Specification:-
Brand: Vissco

Product: Vissco Invalid Commode With Cover (Universal)

Made of sturdy plastic removable lid.

The footrest is made of anti-slip material, ensuring a firm grip.

Size: Universal fit

Item Weight: 13 kg