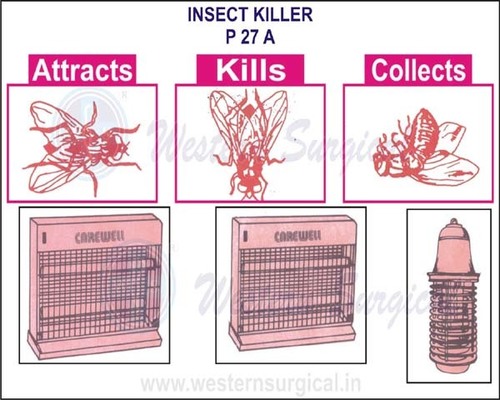 Insect Killer
Product Description
Insect Killer
In addition , the following electrical items are available from us:
U.V. tubes & Lamps for Insect Killer m/c.
TUV Germidical Tube for Sterillization of air & water , complete with fixture.
U.V. Lamp 125W Black wood.
Electronic Rat Repller.
Electronic valtage Stebilizer.
Special type of copper make choke for U.V. tube and germidical tube 15W / 20W / 30W.
Hand Dryer.
All type of electricals and electronic Spare parts etc.
TECHNICAL SPECIFICATION OF FLYING INSECT KILLER M/C:-
MOUNTING : Hanging or free standing
Housing : Buffed Alluminium or Powder Coated
Electric Consumption : 0.6 Units in 8 Hours
U.V. Tubes : Twins 15 Watts or 20 Watts (Philips Hollands)
Tested and Guaranteed Components
It don't required technical operator for it's operation
Super Industrial Model:
Files and Flying insects are more than a nuisance : they can be a major threat . So when it comes to flying insect control, you just can't take chances. Welcome to CEREWELL the flying insect control system relied upon by multinationals ,large indian corporations and public sector units, among others. CAREWELL flying insect system made by is widely used throughout the country in hotels, restaurants,canleens,dairies,bottling plants,pharmaceutical companies.bakeries, food processing and canning industry , fisheries, abattoirs, wherever flying insect control is important.
A proven approach to killing files Conveniently and hygienically.
Kills files continuously without interrupting production, customer traffic or any activity.
Is low priced!- Costs next- to nothing compare to expenditure on decor, furniture,plants & and machinery.
Noiseless - Unlike fans , ACs, refrigerators.
Running Coasts? - Very low , Like using a tube light at home , So economical.
Safety? - Absolutely safe ,Used worldwide , Plastic coated M.S. guards provided.
NO FUMES , NO CHEMICALS , NO ODOURS.
Just ENVIRO-FRIENDLY.
WHY IS CAREWELL NO.1?
Great inputs ! Great workmanship!
Neat and tidy copper writing with schematic drawing for ease in repairs.
Imported U.V. tube with correct radiation
Rugged 3 KV transformer with 500 PF, 7.5 KV condensor : a unique custom-built combination subjected to high - voltage breakdown test and time-test.
Moisture proof teflon spacers to maintain the precise 9mm inter grid space .
Spares and after - sales - service available.
Yes, we care.