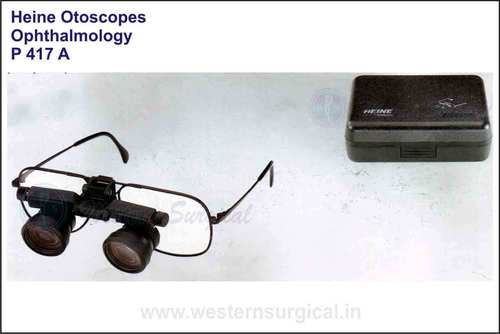 Heine Otoscopes(Binocular Loupes)
Price And Quantity
Product Specifications
Product Description
Heine Otoscopes(Binocular Loupes)
FRAME WITH OPTICS MOUNT AND RETAINING CORD
A B C
C-00.32.012 large 17mm 57mm 140mm
C-00.32.014 small 15mm 55mm 135mm
G Series, 2 x, 2.5 x, 3x
SPECIFICATION
Magnification 2 x 2.5 x 2.5x 3 x
Working distance 420mm 420mm 340mm 420 mm
Filed of view 95 mm 85mm 74 mm 52 mm
Weight 80g 80 g 80 g 90 g
HEINE G series binocular loupes combine precision optics with exceptionally light weight.They are ideal for many applications.
General medicine. dermatology. general plastic and neurosurgery. ENT ophthalmology veterinary and dental medicine etc.
precision optics : large filed of view, bright, clear image
Lightweight, torsionally-stiff spectacle framer. : tough, long-lasting and compartable
Unique single-handed PD selection : smooth, easy PD selection
choice of to height settings : assures a perfect fit
Hinged optics : swing out of view when not required
Detachable optics : you can use various magnifications with the same frame
Detachable light source available : shadow-free, co-axial illumination.
420 mm 340 mm
SET COMPLETE 2 X MAGNIFICATION, IN CASE
with large frame C-00.32.181
with small frame C-00.320171
SET COMPLETE 2.5 X MAGNIFICATION, IN CASE
with large frame C-00.32.186 C-00.32.183
with small frame C-00.32.176 C-00.32.173
SET COMPLETE 3 X MAGNIFICATION, IN CASE
with large frame C-00.32.187
with small frame C-00.32.177
OPTICS UNIT WITHOUT FRAME, 2 X C-00.32.002
optics unit without frame, 2.5 x C-00.32.004
optics unit without frame, 2.5 x C-00.32.007
optics unit without frame, 3 x C-00.32.008
for details of individual parts, please see the price list
Trade Information
Cash Advance (CA)

Contact us for information regarding our sample policy