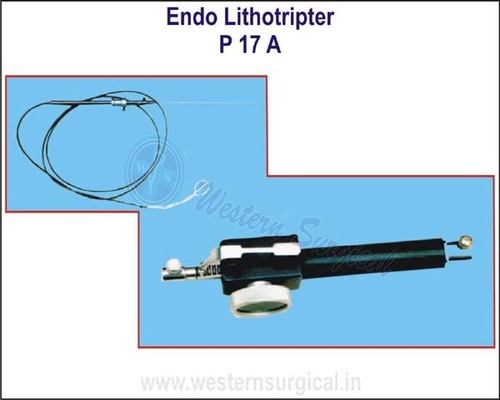 Endo Lithotripter
Product Description
Endo Lithotripter : Used for Purpose of C.B.D. Stone Retrival throgh the Scope. And for Lithotripsy to Crush Stones in Biliary Duct.
Features -
Handle - Light Weight with easy grip and Smooth rolling of Knob.Locking Feature - Unidirectional Movement Locking System to Facilitate Secure Crushing / Retrieval of Big C.B.D. Stone.
S.S. Sheath & Tip - Inner Cutting Edges to Perform Lithotripsy. Outer tip Rounded Atraumatic. Outer S.S. Sheath Offering no Strain on Duodenoscope Elevation Channel.
S.S. Sheath Locking to Handle - Secure and Firm Fitting of S.S. Sheath Locking to Handle with Handle.
PTFE Sheath - Covers Basket and Enters in to the Duct Through Instrument Channel with Low Friction, Easy Glide from Outer S.S. Sheath.
Technical Information -
Working Length - 210 Length - 210 cms.
Compatible with Instrument Channel - 4.2 mm.
Basket Diameter - 35 mm
Basket Shape - Hexagonal
Flush Port for Contrast.
Atraumatic Bullet type Basket Tip for Ease of Insertion and Procedure.
Advantage : No Need to Remove Endoscope for Lithotripsy, can be Done through the Scope under Vision C.B.D. Stone Lithotripsy-Retrieval
Procedure Availability : The Device is Supplied Non - Sterile - Reusable. Flexible Sheath and Filament with Basket is Available Separately. Sterile Lower Assembly Supply on Request.
| | | |
| --- | --- | --- |
| Product Name | Sheath Diameter | Sheath Length |
| Endo Lithotripter Complete set with Handle. | 3.7 mm | 210 cm |
| Endo Lithotripter Flexible Sheath with Basket Filament & Assembly | 3.7 mm | 210 cm |
| Endo Lithotripter Basket Only | - | - |