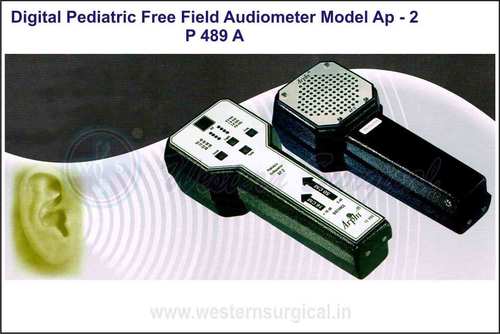 DIGITAL PEDIATRIC FREE FIELD AUDIOMETER MODEL AP - 2
Price And Quantity
Product Specifications
Product Description
DIGITAL PEDIATRIC FREE FIELD AUDIOMETER MODEL AP - 2
DIGITALLY controlled tones and attenuation
Testing of children from the age of three months
can also be used for adults for "Quick-check"
Free-free-filed screening audiometry.
Available with testing levels from 90dB to 30dB or 80dB to 20dB free filed
Warble tone for easy analysis
Fully calibrated for free-filed audiometry
COR and VRA tests
Touch-switches for light and tone
L.E.D. indication of attention and frequency
one hand operation
Automatically switches off if left unused, thus extending battery life.
Uses ordinary standard penlite batteries replaceable in the filed by anyone
Also works on 220v (OR 110V) AC mains with an ordinary battery eliminator
Light weight, hand-held design
Tough vaccum-formed ABS housing for rough handing
Drop-proof
Heat-proof
DESCRIPTION OF THREE TESTS WITH THE PEDIATRIC AUDIOMETER AP - 2
CORAUDIOMETRY
The DIGITAL pediatric audiometer AP-2 can perform conditioned orientation reflex based on a technique describe by suzuki and ogiba (1961). The phenomenon called "orientation reflex" is not a learned response, but a natural reflex movement elicited by sound or visual stimulation. if the sound visual stimulation elicits a reflex, and the reflex is conditioned by a tone, the child will look towards the visual stimulation, e.g.flashing light; as soon as the tone is heard. if the co conditioning effective the child will look in the direction of the sound source, even before the visual stimulation is presented. the COR method is based on co-operation with the child.
VRATEST
The DIGITAL pediatric audiometer AP-2 can perform visual reinforcement audiometry (Liden and kankkunen 1969), which is extension and modification of COR, where the co-operation with the child is less important. Liden and kankkunen accept not oniy the sound localization orientation reflex but also four other reactions; reflex reactions (body and face), search reaction, orientation and spontaneous reactions.
APRTEST
The DIGITAL pediatric audiometer AP - 2 can also elicit the Auro palperal reflex (APR) which is a contraction of the muscles surrounding the eyes. The preferred stimulation is 4000 Hz warble tone. 80 db HL intensity level is normal sufficient for most sleeping infants (Downs and steritt, 1967)
INSTRUMENT CONDITIONING
When the child has reached age of two to three years, the so called instrument conditioning in testing children can be used i.e.teaching the child to react in certain way on sound stimuli. For this purpose ARPHI has "peep-show" toy based on play-audiometry.
TECHNICAL SPECIFICATIONS
| | |
| --- | --- |
| Digital selection of frequency | Digital selection of Attenuation |
| LIGHT stimulation | 3 LEDs arranged in a triangle, flash-speed 5 Hz |
| FREQUENCIES | 500,1000,2000,4000 Hz warble tone |
| IDENTITIES | 90,70,50 And 30db free filed hearing loss at 16 cms. and 80,60,40 and 20db free filed hearing loss at 50 cms. |
| WARBLE FREQUENCY | 5 Hz +- 5% |
| SOUND SOURCE | Built in loud speaker |
| MAINS OPERATION | can be operated with an optional 12v battery eliminator |
| BATTERY OPERATION | 8 standard penlite cells. |
| AUTOMATIC SWITCHES-OFF | For battery conservation and economy |
| TONE AND LIGHT STIMULATION | Silent touch switches |
Trade Information
Cash Advance (CA)

Contact us for information regarding our sample policy