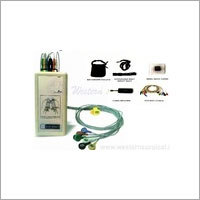 Digital Holter Recorder
Product Description
Digital Holter Recorder
Digital holter recorder is a three-channel, seven-lead solid-state device designed for 24-hours continuous recording of ambulatory ECG data. Its nonvolatile, removable, digital storage and rugged, compact design ensure reliable operation and long life, while its light weight enables patients comfort during daily activities.
Technical specification
RECORDER
Recording channels : 3 channels
Leads : 7
Storage : MMC SDHC card (4GB)
Storage indication : LED indication
Event /Marking : Event button
Recording : Full information without compressing
Duration : 24 hrs
Dimensions : 140mm*70mm*24mm
Power supply : Alkaline battery 1.5 v (AA) LR 6- 2 nos
ANALYSER
Template editing to analysis
Heart rate variability
Hourly count menu
Atria fibrillation/ flutter scanning
Pacemaker auto detection and analysis
Search function based on arthythmia type
QT analysis
ST analysis with 3D graph
ASCII output
MINIMUM COMPUTER CONFIGURATION
OS Windows XP pro./windows 7 protessional 32 bit. Processor core 2 Duo or higher RAM : 2GB harddisk or higher. CD/DVD optical drive. Screen resolution 1024*768 or higher.