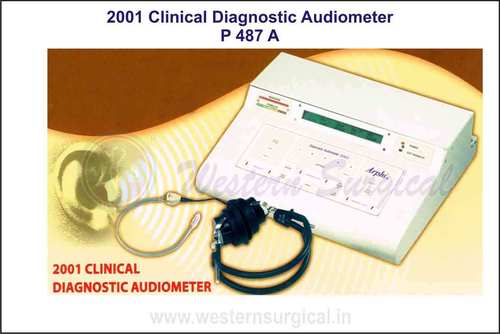 DIAGNOSTIC AUDIOMETER
Price And Quantity
Product Specifications
Product Description
DIAGNOSTIC AUDIOMETER
CHANNELS
Two separate channels : one for stimulus and one for masking.
FREQUENCIES
Air, free field : 125-250-500-750-1000-1500-2000-3000-4000-6000-8000 Hz.
Bone : 250-500-750-1000-1500-2000-3000-4000-6000-8000 Hz.
ATTENUTOR RANGE
-10 to 120 db steps with range extender function. fully clickfree operation over entire range.
HEARING LEVEL RANGE
Maximum output is limited by transducer capacity. Typical values for air : Max 120 db HL at 500-6000 Hz.
Bone : 70 db HL at 500-4000 Hz
EXTERNAL INPUTS
Microphone : Dynamic, for speech audiometry and patient communication.
Patient Mic : Dynamic
Tape/CD 1 : stimulus channel, sensitivity 0.1-3.0 vrms, 47 k0hm.
Tape/CD 2 : Masking channel, sensitivity 0.1-3.0 vrms, 47 kohm.
OUTPUTS :
Phones : Air conduction
Bone : Bone condition
insert masking : insert phone
F.F : free filed loudspeaker via external amplifier. output voltage : max.3 vrms.
output load : max.5mA
TECHNICAL SPECIFICATION STANDARD FUNCTIONS
Speech audiometry : stimulus via microphone or tape/CD1
Masking : white noise, speech noise or narrow band.
Tone : Tone duration is controlled manually.
Pulsing rate : user-programmable (range : 1.5-3.5 Hz)
Warble : Frequency modulation +-5%
Left/right shift : Automatic switching of all selected parameters from left to right channel and vice versa.
Hearing level lock : Locking of masking level to stimulus level at any preselected interval.
SPECIAL FUNCTIONS
SISI Test : Display shows presentation counter. patient score counter with current score percent constantly indicated increments of 1 to 5 db interrupt/reset function lnitiated by tone switch.
Flower Test (ABLB) : Alternate binaural loudness balance test.
Stenger Test : Binaural tone stimulation
USER FUNCTION
User setups are stored in a non-volatile memory (EEPROM)
COMMUNICATION AND MONITORING
Built in talk-over with individually adjustable monitoring. visible patient response (LED indicator) supplemented by audible patient response with a separate level control via monitor headset LED bar-graph V.U. meter provides visual indication of stimulus level as well as displaying level for sensitivity adjustment of microphone/Tape/CD input signals.
DISPLAY
Alphanumeric transreflective LCD2 rows of 40 characters. screen dimensions 155*16 mm. LED backlighting.
DISTORTION
Less than 1% (T.H.D)
ACCURACY
Frequency : Better than +-2%
Hearing level electrical : Within +-1% db of indication
Acoustical : Within +-3 db of indication
CALIBRATION
AIRIEC645/ANSI3.6-1996
BONEISO7556-1987/ANSIS.3.26-1981
Calibration data are stored in a programmable non-volatile memory.
POWER SUPPLY
230V AC 50Hz +-10%
POWER CONSUMPTION
25VA Approximately
OPERATING ENVIRONMENT
Temperature : 15-50c
Relative humidity : 30-90%
CONSTRUCTION
Aluminium light weight, Non-corrosive
DIMENSIONS & WEIGHT
(400*330*135)mm. 5kg Approx. Without carrying case.
STANDARD ACCESSSORIES
head set, bone conductor with headband patient response hand switch RS 232 C Data interface, dust cover, audiogram pad, 1 blue and 1 red pen. operation manual
OPTIONAL ACCESSORIES
Free-filed loudspeakers, amplifier and speech units. patient talk-back microphone monitor handset.
Trade Information
Cash Advance (CA)

Contact us for information regarding our sample policy