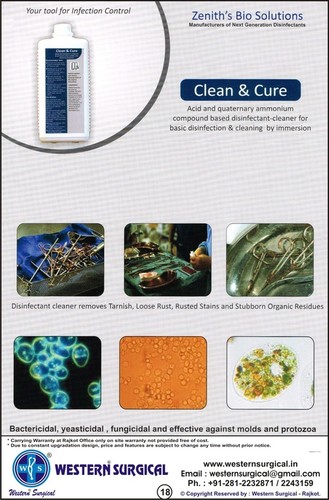 Clean & cure
Product Description
Clean & cure
Easily removes even pertinacious calcification, grease and urinary calculus as well as cosmetic residues.
Ideal as anti-calcification agent in kitchen areas dries without streaks
Highly material compatible and user-friendly
Clean & cure is excellent product for disinfection and cleaning to remove tarnish, loose rust and rusted stains. Stubborn organic residues on the instruments to be cleaned are automatically removed by clean & cure. Based on a synergistic combination of quaternary ammonium compounds and an acid compatible detergent system.
Removes stains and hard water deposits. Instruments made of unhardened chrome steel, unalloyed steel and other materials which are not acid resistant should not be treated with clean &cure before prior testing. The basic cleaning of brand new equipment should not be done with Clean & cure.