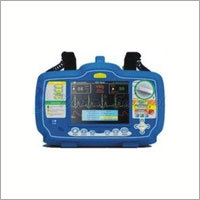 BIPHASIC DEFIBRILLATOR
Product Description
BIPHASIC DEFIBRILLATOR
7'' color TFT
ECG & SPO2 Monitor
AED & Manual mode
Printer
TYPE : DEFIBRILLATOR
PRODUCT DESCRIPTION : is a defibrillation device, which can meet your clinical needs from basic life support (BLS) to advanced cardiac life support (ACLS).
DISPLAY
Screen type : High-resolution display
Screen size : 7 inches (17.7 cm) diagonally
Sweep speed : 25mm/sec
Information : Heart Rate, Lead/pads, Alarm on/off, spo2, AED functions and prompts, Alarm selection and limits, Delivered energy.
DEFIBRILLATOR
Waveform : Biphasic
Charge time : Less than 7 seconds with a new fully charged battery.
Energy Display : Monitor display indicates both selected and delivered energy.
Charge prompt type : voice and visual prompts.
Electrode impedance measurement range : 0-250 ohms.