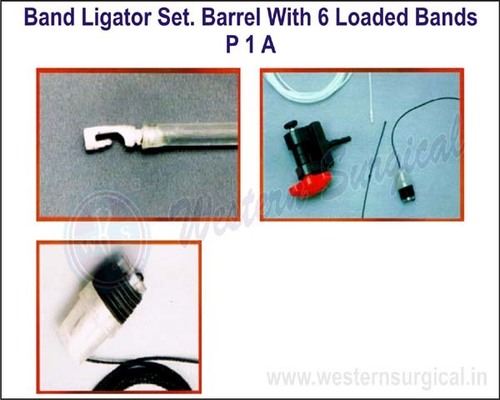 Band Ligator Set. Barrel With 6 Loaded Bands
Product Description
Band Ligator Set. Barrel With 6 Loaded Bands :
Used for Endoscopic Ligation of Esophageal Varices at Or Abouve Gastro Esophageal Junction.
This Device is Supplied Non Sterile, Indidually Packed - Intended for Single use Only.
Technical Information :Shaili Band Ligator Requires 9.5 to 11.2 mm Endoscope Diameter.
Band Ligator Set Contains :
Applicator x 1 pc., Barrel Loaded with 6 x Bands, Atraumatic Plastic hook with Tube x 1 pc., Flushing Needle Blunt Needle Blunt tip x 1 pc.
Barrel with 6 Loaded Bands Available Individually.
Ordering Information - Mention the Product code x Quantity Required.
Product Name
Band Ligator Set
Barrel with Six Loaded Bands
To Indicate the Length of Thread, F = 175 cm. for Fujinon Endoscope, 0 = 150 cm. for Olympus/Pentax Endoscope.