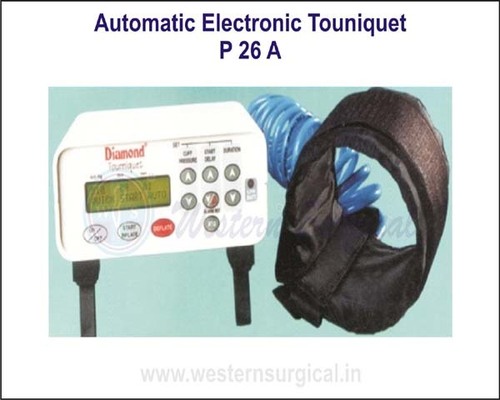 Automatic Electronic Touniquet
Product Description
:
TRDG 501 - Fetures
* The Cuff Pressure is Maintained to Set Value Automatically During the Operation Period.
* Set Value of Cuff Pressure can be Altered to any other Desired Value Even While it is in Working Mode.
* Sophisticated Alarms to give Better Warning Message.
* This Tourniquet can be Programmed to suit Your Operation and Post-Operation needs by Setting the Parameters Start Delay and Duration.
* Both Start Delay and Duration can be Changed During the Operation.
* Manual Over-Ride for Cuff Deflation During Programmed Timing is also Possible.
* Elapsed Time of Operation is Always in Front of you on Display in Min. : Sec. Fashion
* Last Setting Remains in Memory When Power is Turned OFF.
* This Tourniquet is Battery Operated. Hence Portable and can be used Anytime. Anywhere even for post Operation.
* Built in Battery Charging Circuit to Recharge the Battery Immediately by Just Connecting the Power Cord.
* Special Cuff Design, Soft Armored Type, so that it will Fast Forever Even it Sharp Objects get in Touch with it.
* Elegant, soft Keypad to Dial the Setting or Parameters at ease.
* Cuff Pressure Setting : 20 to 500 mm of Hg
* The Unit is Compact, Light Weight.
Specifications :
Cuff Pressure - 20 to 500 mm Hg
Start Delay - 0 to 120 Minutes
Duration - 0 to 250 Minutes
Inflation - Motorised Pump
Deflation - EMV Automatic or Manual Override
Pressure Resolution - 2 mm of Hg. (Set Pressure)
Display - 16 x 2 Backlit LCD Display
Operation Method - Micro Controler, Based Controler
Elapsed Time Display - Minutes : Seconds
Power - 6 V DC Battery
Alarms - Pressure Leakage/ Elapsed Time/ 5 min. Before Auto Deflation
Tourniquet Cuff Types - Soft, Armoured Cuff
Cuff Size - Modified LEG 8.5 x 76 cms. Standard ARM 7 x 35 cms. Child 5 x 30 cms.
Weight - 1.5 Kg. Approximate
Dimensions - 165 (w) x 75 (h) x 140 (d) mm.