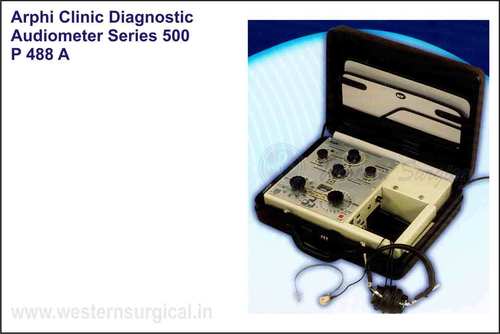 ARPHI CLINICAL DIAGNOSTIC AUDIOMETER SERIES 500
Price And Quantity
Product Specifications
Product Description
ARPHI CLINICAL DIAGNOSTIC AUDIOMETER SERIES 500
Portable diagnostic instruments with sleek and sturdy classic briefcase housing
Simple & convenient to operate
computer type soft-touch electronic interruptor.
Tone decay test with electronic timing in all models.
Range of nine frequencies from 250Hz to 8000Hz
White noise masking/Narrow band making optional for MKLLL
Air & Bone conduction and +20db facility in all models
Speech, SISI, ABLB,SAL tests, patient signals, free filed output socket available battery or AC mains operation with built-in voltage regulator
VERSATILE SERIES OF INSTRUMENT
Series 500 comprises of five truly portable models of diagnostic audiometer. These are powerful models providing all necessary basic diagnostic audiometric tests. The five models in the series are 500 MKI, 500 MKIS, 500 MKII, 500 MKIIS and 500 MKIII.
Superiority of the series 500 audiometer models is assured through ARPHI's judicious design philosophy.
The instrument panel has simple easy-to-use arrangements. The instrument can be operated with one hand leaving the other hand free to chart patient's audiogram. ingenious functions and facilities available in the instruments are described here below.
STANDARD ACCESSORIES
High quality headphones, A bone conductor, Battery box, AC mains cord, Guarantee card , Audiogram blanks, Duster cloth, Detail operating manual (This instrument therefore requires no demonstration or installation)
DUAL SUPPLY OPERATION
All the five models work either 230 v AC mains supply or from ten medium sized battery cells. (R-14 type.) A built-in voltage regulator retains the audiometer calibration even when the batteries are party drained. This effectively increase circuit reliability.
Draining of batteries is minimised by two special circuit features.
1. As soon as mains supply is plugged in the batteries are automatically disconnected.
VISUAL DISPLAY
The panel VU meter provides visual indication of the battery condition in tone tests and speech level in speech test.
Modular circuit design : The circuit boards designed as plug-in modules. from the repairs and servicing viewpoints, this design is very advantageous. immediate fault rectifications is possible, even in the filed.
GUARANTEE
The equipments are guaranteed for a period of one year. Two free calibrations, free servicing and repaints within this period are included in the guarantee, provided the audiometer is delivered to and collected from our factory/branch permises.
| | |
| --- | --- |
| MODEL 500 MK 1 | MODEL 500 MK 1 S (with speech) |
| Digital electronic manual interruptor | Digital electronic manual interrupt |
| Digital electronic automatic interruptor (pulsing tone) 1 sec. 'ON' 1 sec.'OFF' | Digital electronic automatic interruptor (pulsing tone) 1 sec 'ON' 1 sec. 'OFF' |
| 60 seconds tone decay test (Rosenburg) | 60 seconds tone decay test (Rosenberg) |
| Mains/Battery working built-in voltage regulator | Mains/battery working built-in voltage regulator |
| Testing of hearing loss up to 120 db with +20 db switch | Testing of hearing loss up to 120 db with +20 db switch |
| Pure tone air conduction test | pure tone air conduction test |
| pure tone bone conduction test | pure tone bone conduction test |
| white noise masking | white noise masking |
| patient signal indicator | patient signal indicator |
| free-filed provision | speech test free-filed provosion |
Trade Information
Cash Advance (CA)

Contact us for information regarding our sample policy