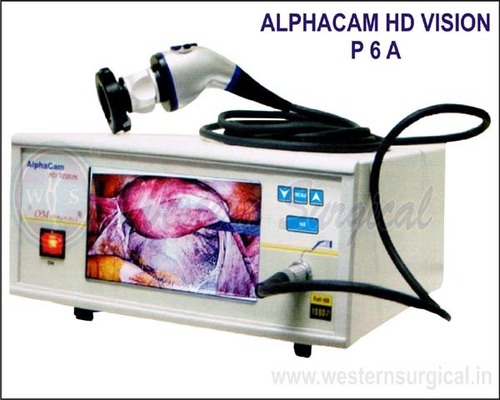 Alphacam HD Vision
Product Description
Features:-
Native resolution for hd camera: 1920 x 1080p
Full hd image output 1080p
7" LCD Display for Menu and Real time image
Soakable camera head with four buttons.
Image freeze ,digital zoom 2.5x
Video outputs HDMI,RGB,Composit,Svideo.
Salient Features:-
Introducing full hd remote head camera system from Om surgicals. Om surgicals brings you outstanding hd resolution and superior colour performance at the right price,with outstanding performance. The camera delivers native 1080p/50p resolution from Hdmi output with increased resolution upto 1000 Tv lines and a compact light weight camera head module.
TECHNICAL SPECIFICATION

HD camera type

Full high defination

Image sensor

16:9 format mega pixel

Pickup device

1/3" Mega Pixel Sensor with High Sensitivity

HD Native resoluation

1920 x 1080 p

Auto Shutter speed

1/100 to 1/10000 and manual

Electronic Zoom

2.5x times

Signal to noise ratio

54db

Camera head cable

10ft(3trs)

Camera buttons

Four keypad tactile buttons

White balance

Push camera head button for AWC

Camera control unit output

HDMI x2, RGB, Svideo, Composit x2

Osd menu with selection keys

Camera head weight

30 gm

Weight of control unit

2 kg

Camera control unit

102mm (h) x 356mm(w) x 356mm(I)

Input voltage

100 to 240 Vac

Frequency

50hz

Power consumption

80va

Operating temperature

0 to 40 degree centigrade

Operating humidity

10% to 90%
CLASSIFICATION

Safety Class

1

Type

BF
SCOPE OF SUPPLY

COMPLETE UNIT

Alphacam HD Vision

1

CONSIST OF

AHV-01

Camera control Unit

AHUV-01

1

Camera Head

ACH-01

1

Coupler F-24

EC-24

1

DVI- D to HDm 1 Cable

DVI-D-HDm1

1

SV HS to SV HS

SV HS-01

1

BNC to BNC Cable

BNC-RCA

4

Mains Card

MC-03

1

Fuse

F-1A

2

User Manual

UM AHV 01

1

ACCESSORIES

Zoom Coupler F=16 TO 34

EZC-16-34

1

Other fixed focus couplers on request