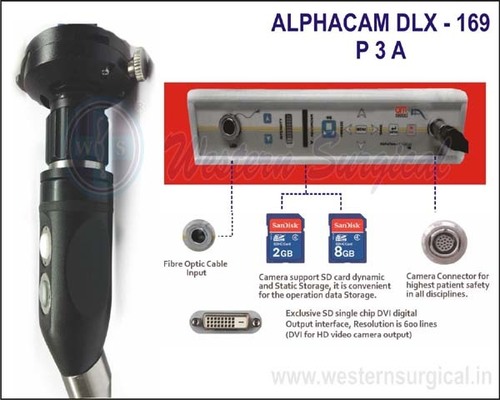 Alphacam DLX-169
Product Description
Alphacam DLX-169
Discription:- Alphacam led DLX camera 1ccd Hd single chip with DVI digital output interface delivers high defination output i.e 1920 x 1080P. Facilities for adjusting colour gain (red gain /blue gain)to get very natural picture quality.By touch of button you can Freeze the image for examination .The chice of adjustment WINDOW size is useful to reduce glare and adjust lighting Condition to suit different surgical procedures Choice of models with inbuilt recording still or video with inbuilt light source.
Exclusive SD single chip DVI digital Output Interface,Resolution is 600 lines (DVI for HD video camera output)
Micro-lens-on chip technology : This innovative technology focuses lightbeams on a photosensitive chip diode.Thus the light sensitivity of the chip improves visibility.
This extremely high resolution provides a razor-sharp image.The visual diagnosis becomes even more accurate.
CF Type Camera : A CF type camera fulfils the highest degree of protection against electrical shock to the patient.
DIGI-Technology (Digital Image and Graphics Improvement) : The built-in DIGI-Technology gives a brilliant picture clarity combined with a superb colour reproduction. The video information is more precise than ever.
Our window function provides excellent picture quality when small image diameter.
Printer/VCR Fingertip Control: The Printer/VCR can be controlled under sterile conditions by simply pressing the button on the camera head.
Technical index

Alphacam DLX

Alphacam DLX

Alphacam DLX/DUO

Alphacam DLX/DUO

Camera Head

1/3" CCD chip PAL

Yes

Yes

Yes

Yes

Resolution

600 lines

Yes

Yes

Yes

Yes

High defination output

1920x1080p

Yes

Yes

Yes

Yes

Minimum illumination

2 Lux

Yes

Yes

Yes

Yes

Signal to Noise Ratio

60db

Yes

Yes

Yes

Yes

Shutter

1/60s-1//10000S

Yes

Yes

Yes

Yes

Gain

Automatic

Yes

Yes

Yes

Yes

White Balance

Automatic / Manual

Yes

Yes

Yes

Yes

Window

3 level adjustable

Yes

Yes

Yes

Yes

Image display

Picture in picture

Yes

Yes

Yes

Yes

SS card storage

Static

Yes

no

Yes

no

Video recording

no

Yes

no

Yes

Video output

Composit x2,Y/C,,DVI-D,RGB

Yes

Yes

Yes

Yes

Camera head control button

Camera cable Length

Two control button Freeze,,Save,Recording

Yes

Yes

Yes

Yes

3 metres

Yes

Yes

Yes

Yes

Light source

L100 built in

no

no

Yes

Yes

Scopy of Supply

Complete camera system Consist of

169SR

169VR

169SR/DUO

169VR/DUO

Camera Control unit

CCU 169SR

CU 169VR

CCU 169SR DUO

CCU 169VR DUO

Camera Head with cable

CH169

Yes

Yes

Yes

Yes

Endoscopic coupler

EC-25

Yes

Yes

Yes

Yes

Memory card

SD 2gb / 8 gb

Yes

Yes

Yes

Yes

Compoosite cable

BNC-RCA

Yes

Yes

Yes

Yes

S-video cable

SVHS-01

Yes

Yes

Yes

Yes

DVI-D cable

DVI-D to DVI-D

Yes

Yes

Yes

Yes

Fuse

1A

Yes

Yes

Yes

Yes

Mains cord

MC-03

Yes

Yes

Yes

Yes

User manual

UMC 169

Yes

Yes

Yes

Yes