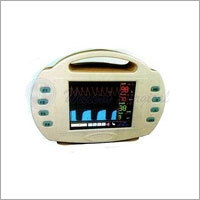 109 NEW ETCO2 MONITOR
Product Description
109 NEW ETCO2 MONITOR
FEATURE
The TM 109 monitor supports the display of two waveforms and up to eight parameters using a 14.2cm (5.6 in) LCD.
Supports adult, padiatric and neonatal patient
Alarms for high and low ETCO2, respiatory rate, SPO2 value, pulse rate.
color-coded graphic
Standard with sidestream ETCO2, easily change to mainstream by advanced order
ETCO2
PRINCIPLE OF OPERATION
Solid state sidestream module single beam, non-dispersive infrared (NDIR) absorption, ratiometric measurement

INITIALIZATION TIME
Capnogram within 10sec, full specifications within 60sec.
CALIBRATION
Routine calibration is not required. 8sec. zero performed when power on or ambient temperature changing too faster.
SAMPLING FLOW RATE
100ml/min (can be set from 50 to 200ml/min)
PRINCIPLE OF OPERATION
Red/infrared absorption
Range : 0-100%

Accuracy :+-2% spo2 (for 80-100% spo2)
+-3% spo2 (for 50-79% spo2)
(1 SD, or 68% of readings within claim) Unspecified for 0-49% spo2
Resolution : 1%
Averaging : 8sec.
Range : 20-254bpm
Accuracy : +-1% of full scale
Resolution : 1bpm
Averaging : 8sec
Compensations : N2O & O2 (selectable), BP (automatic)
capnogram : selectable sweep speed (4.41, 5.82, or 17.64mm/sec)
Range : 0-150 mmHg
Accuracy : +-2 mmHg (for 0-40 mmHg)
+-5% of reading (for 41-70 mmHg)
+-8% of reading (for 71-150 mmHg)
Resolution : 1 mmHg
Response time : 28cms
Accuracy : +-1 br/min
Range : 0-150 br/min
Resolution : 1 br/min
Size : 175mm H* 240mm W* 140 mm D
Weight : 1.8kg